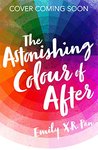 The Astonishing Colour of After by Emily X.R. Pan
My rating: 3 of 5 stars
Poor Leigh is only sixteen years old when her mother commits suicide. She is overwhelmed with guilt. She can't get over the thought that she should have been there for her Mum rather than enjoying her first kiss with boyfriend, Alex. She feels that she should have paid more attention to the obvious signs of her mother's depression. She blames her father for being away on business too much, out of the lives both her mother and herself.
The spirit of Leigh's mother soon appears as a large red bird and speaks to her, but she becomes rather elusive. She had left a scribbled note telling Leigh, "I want you to remember."
Leigh has never met her Taiwanese grandparents. Her Dad takes her to Taiwan. He soon falls out with his in-laws and leaves. Leigh speaks very little Mandarin or Taiwanese but manages to communicate with her Waigong (grandfather) and loving Waipo (grandmother). A family friend, Feng, appears on the scene and helps Leigh to understand the culture and the cuisine and the language and the implications of Ghost Month. Feng shows her around her mother's childhood haunts.
The clock is ticking. The spirit lives in limbo for only forty-nine days before moving on into the next life. The red bird form of Leigh's mother will only be around for so long.
Reincarnation becomes a big part of the story. Early on, Leigh recalls, "When I was little, I used to ask how they met, and they would just say they'd known each other since the beginning of time, for hundreds of lives."
Interestingly, Leigh is a synesthete. Sights and sounds and scents and textures all invoke colour. However, I think that the author makes too much of this. Annoyingly, Alex keeps asking her, "What colour?" The narrative could have made these feeling more natural and less forced. It becomes tedious.
I love the way that the emotions and feelings and curiosity and spiritual awareness of the young lady are tracked through the book. I like the exploration of the Taiwanese culture.
The Astonishing Colour of After is an enjoyable and very thought-provoking read. There is so much in this book that I loved, perhaps a little bit too much. Have you ever been to a restaurant and ordered a dish which has had so many good things on the plate that it becomes a bit over-whelming? This book is a bit like that. It gets a bit tedious at times, but I thoroughly recommend it.